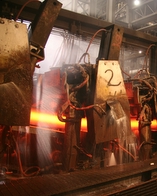 Our Goal is to Take Care Of Our Customers.
We will accomplish this by being the safest, highest quality, lowest cost, most productive and
most profitable steel making facility in the world. We will accomplish this while being cultural and
environmental stewards in our communities and by working together.

Nucor-Yamato Steel Company was formed in 1987 as a partnership between Nucor Corporation and Yamato Kogyo Company Ltd. with the goal of operating a steel mini-mill to manufacture wide-flange beams in Blytheville, Arkansas. Today, Nucor-Yamato Steel Company has the capacity to produce over 2.5 million tons per year of not only wide-flange beams, but also H-piling, sheet piling, standard I-beams, channels and various other structural shapes.

The company has gone from a Northeast Arkansas cotton field, to the largest structural steel mill in the Western Hemisphere, with employment of over 800 men and women. As with all Nucor Corporation operations, Nucor-Yamato's success is tied to the employees' success. The production bonus system creates an environment where the employees are some of the most talented, creative and well compensated in the industry. Their ability and commitment to continually improve makes Nucor-Yamato Steel Company a world class company and the leader in the structural steel business.
LINKS
Nucor Fastener - Indiana
In September 1986, Nucor entered the steel fastener business. At the time, imports controlled nearly 90 percent of this market in the United States. The plant was built in St. Joe, Indiana. This state-of-the-art steel bolt and nut manufacturing facility produces standard hex head cap screws, more...